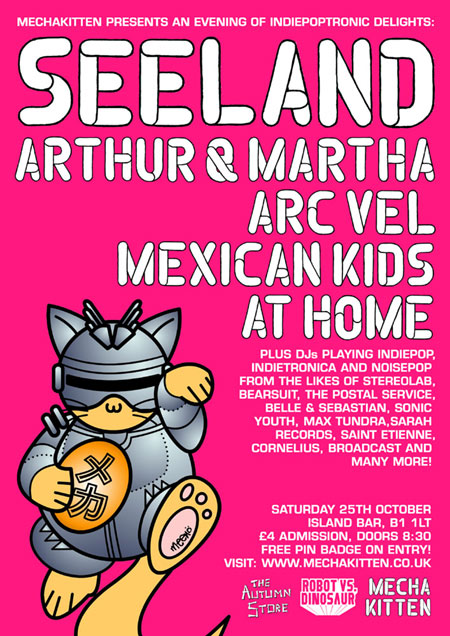 Mechakitten- the long-mooted joint event between Robot vs Dinosaur and indiepop promotions outfit The Autumn Store– is finally on the horizon, taking place at Island Bar this Saturday!
The night features a rare headline performance from ex-Broadcast/Plone duo Seeland, plus motorik madness from London's Arthur & Martha, electronic epics from previous RvD performer Arc Vel and a warm-up set of joyous, multi-vocaled indiepop from Derby-based five piece Mexican Kids at Home as well as DJs playing everything from Battles to Belle & Sebastian until the small hours!
Entry is £4, with a free badge on entry- no cheap admission for robots or dinosaurs this time around I'm afraid, although we may well make concessions for robotic cats? Doors open at 8:30 with the night running 'til late- more info can be found on our events page, and in somewhat confusing fashion we have not one but two facebook events for the night, which can be found here and here. See you there?