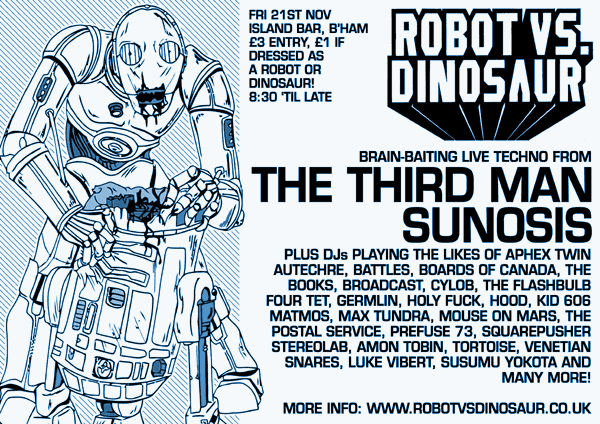 As previously mentioned, Robot vs Dinosaur will be returning to Island Bar come Friday 21st November and as ever we've all manner of electronic thrills and spills in store. On the live front we've got a headline set from London-based techno merchant The Third Man (of whom we wrote about at great length in our previous post) as well as some deft yet laid back electronics from fellow smoke-dweller Sunosis.
We'll also be DJing an all-conquering electronic selection featuring the likes of aphex twin, arovane, autechre, battles, boards of canada, the books, broadcast, ceephax acid crew, chris clark, cornelius, cylob, dntel, the flashbulb, four tet, germlin, holy fuck, hood, kid 606, M83, matmos, max tundra, mouse on mars, polysics, the postal service, prefuse 73, ulrich schnauss, squarepusher, stereolab, tortoise, venetian snares, luke vibert and pretty much anything else with an electronic element to it bar the Pet Shop Boys- drop us a comment or email us via info [at] robotvsdinosaur.co.uk if you've got any requests…
Entry as ever is £3, or just £1 if dressed as a robot or dinosaur. Doors open at 8:30- see you there?