Forthcoming Events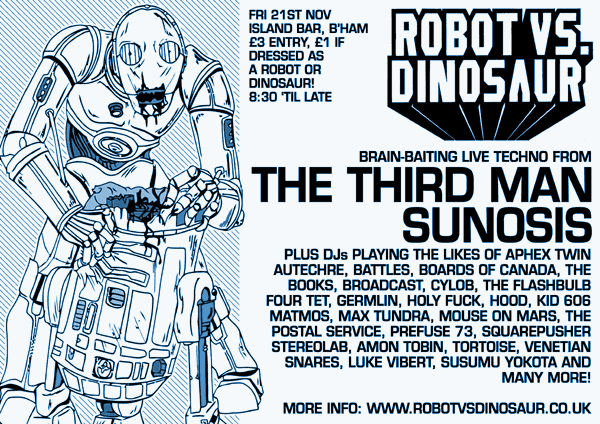 Robot vs Dinosaur is back at Island Bar come Friday November 21st, and as per usual we'll have a positively brain-baiting music selection on offer, both live and DJed, taking in all things electronic.
On the live front, headliner The Third Man (aka London-based producer Toby Leeming) has been racking up the plaudits with his debut album "Clarion Call", released recently via top UK electronic imprint Ai Records. His unique style combines forward-thinking minimal techno with the classic sounds of Detroit and elsewhere, making him undoubtedly one to watch for the future. Catch him while you can!
We've also a set of deft yet slightly more laid back electronica in store, courtesy of fellow Londoner Sunosis. Delicate glitches, clicks and fuzz interact with meandering synth-lines and gorgeously ambient pads and yet his music as a whole, as showcased on his Rednetic release "Warmth", remains resolutely direct: as the main man behind Shepherds Bush's premier beat-bunker Ginglik it's his job to get the party started!
Meanwhile, expect an ultra-eclectic DJ set from our good selves taking in the likes of (brace yourselves) aphex twin, autechre, battles, the books, broadcast, ceephax acid crew, chris clark, cornelius, cylob, dntel, the flashbulb, four tet, germlin, holy fuck, matmos, max tundra, mouse on mars, the notwist, OOO, plone, polysics, polygon window, the postal service, prefuse 73, pulseprogramming, ulrich schnauss, squarepusher, stereolab, amon tobin, to rococco rot, tortoise, venetian snares, luke vibert, xiu xiu, susumu yokota and absolutely anything else we can get our hands on- give us a shout via info [at] robotvsdinosaur.co.uk if you've any requests…
Entry to this ultra-eclectic man/machine/lizard soundclash costs a mere £3, whilst those dressed as robots or dinosaurs can expect to pay just £1! Doors open at 8:30 with the event going on 'til everyone goes home… See you there?
Past Events
Saturday 25th October – Mechakitten, a one-off joint event organised with The Autumn Store. Live music from Seeland, Arthur & Martha, Arc Vel and Mexican Kids At Home.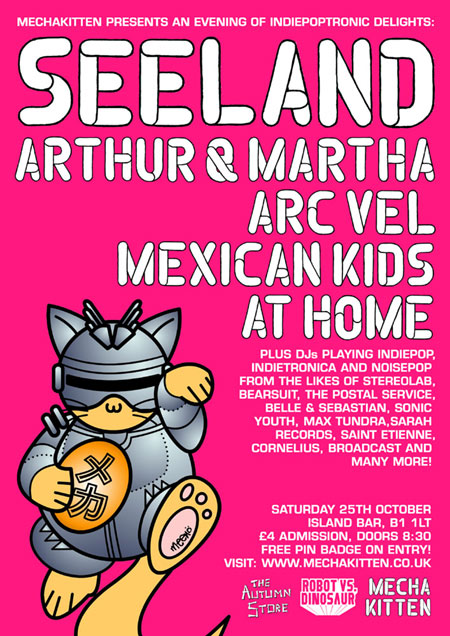 Friday 17th October – live music from Cyan341 and Line
Friday 19th September – live music from Jade One and QXTC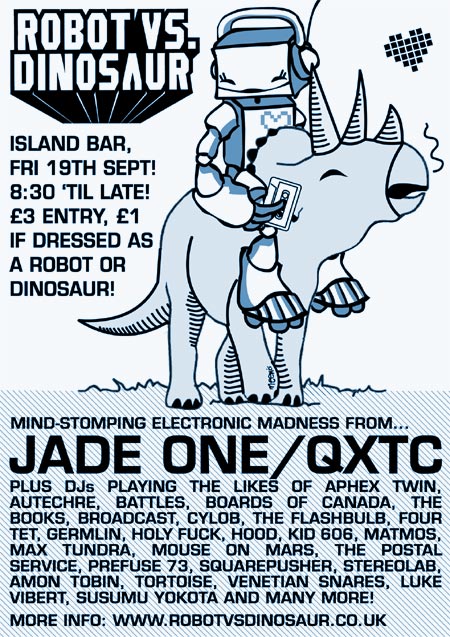 Friday 15th August – live music from Mike In Mono and Girljoy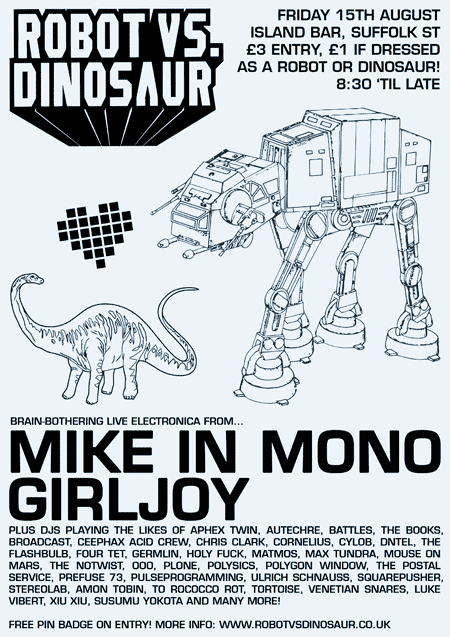 Friday 18th July – free entry DJ-based ultraparty
Friday 20th June – live music from Portmanteau and Arc Vel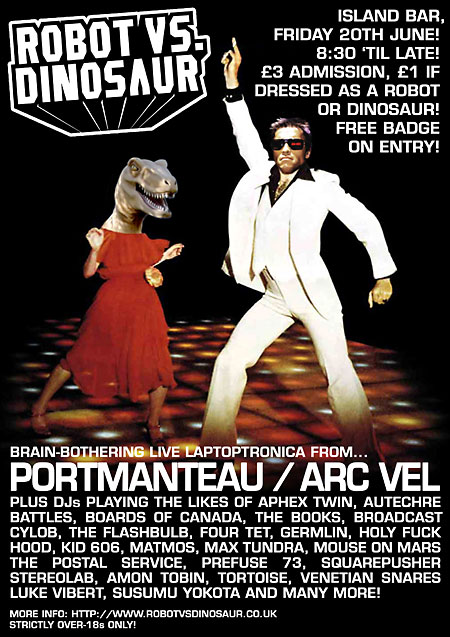 Friday 16th May – live music from Datassette and Lone
Friday 18th April – live music from Domestication of the Dog and Ickis
Friday 21st March – live music from Calika and Scrubber Fox
Friday 15th Feb – live music from Plant43 and QXTC