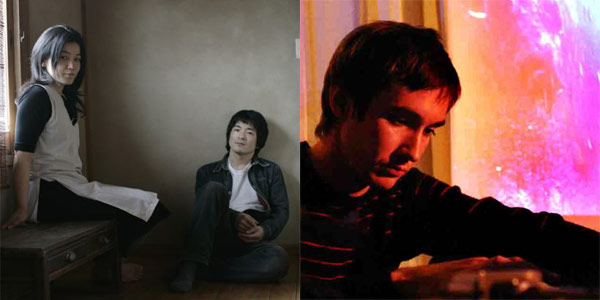 …but we sure are sleepy, having spent many months tirelessly working day jobs since we saw you last. Some folk might of course consider these two situations as being broadly similar, the big difference being that DJing is a fair bit more difficult when you're in the grave.
And DJing we are, at a gig organised by Radio Black Forest, which sees a headline set from J-Folk duo Tenniscoats alongside support from the lovely Arc Vel and the rather more mysterious Ampersand.
I confess, I don't know a great deal about Tenniscoats other than that they're from Japan, weave soulscraping folk-tinged psychedelic symphonies and have collaborated with Deerhoof. "A convincing and beguiling melange of whispy folk, hazy psychedelia and murmuring electronics among which deft melodies blossom almost unnoticed", reckoned The Wire at some point apparently, not that I read The Wire. Youtube presents a particularly rich seam if you're after a taste, although they also have a couple of tracks up at Myspace which you should definitely check out.
Arc Vel on the other hand we know pretty well, and indeed regular readers of this blog (not that we've many these days!) may know that we like him just a little bit. "Mesmeric, delicate, yet punctuated by occasional bursts of raging intensity, like watching a beautiful thunderstorm" wrote The Wire a few months back. No wait, that was me! Maybe I should write for The Wire?
And finally, Ampersand, of whom we know almost nothing. "Do they have any stuff online?" I wrote in an email a few days ago. The reply was a resounding no, given that they're such a very newly-formed project, although fans of Cities Prepare For Attack and Skarabee should understand that they feature their members. Actually, sod The Wire, they're better off without me I think.
The gig takes place at the Flapper in Birmingham on Wednesday 3rd June, with entry costing £6. Find Facebook event details here. And as previously mentioned, we will be on-hand to play other people's records between sets. Splendid! Don't miss out, especially since chances are we'll be drifting back off to sleep afterwards…
Infos:
Tenniscoats
Arc Vel
Radio Black Forest