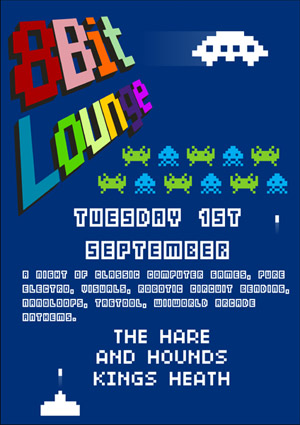 We're breaking radio silence to bring you a special bulletin: former RvD collaborator VJ Chromatouch has teamed up with Subcitizen to launch an extremely exciting new monthly venture known as 8Bit Lounge.
The event is a celebration of geek culture, taking in both classic and (relatively) modern gaming, chipcore, hardware hacking and much, much more. Chromatouch and Subcitizen will be manning the decks, providing music and visuals of a distinctly 8bit bent whilst the night will also feature a live circuit-bending demonstration by fizzPOP, multiplayer retro gaming, a Nanoloop session, an outdoor Wii tournament and all manner of other thoroughly good stuff… plus, apparently pro-celebrity Brum blogger Pete Ashton will be turning up at some point with his massive chipcore collection.
Best of all, entry is absolutely free! The night takes place in the Hare & Hounds back bar on Tuesday 1st September and every first Tuesday of the month thereafter. More details below, taken from their Facebook event page:
"A delightful evening of all things computer game and arcade oriented. From an array of consoles to play on including….
a snes with 5 player bomberman and all original controllers
an N64 with 4 player greatness like starfox 64
a gamecube with some great 4 player games like timesplitters 2

Chromatouch will be using old school consoles to control visuals on the night, including a nintendo ds that can be used to control visuals wirelessly through cellsds.

Hackspace will be doing demonstration and giving examples of circuit bending and hacked electronic toys etc. check the videos attatched for more examples of how this interesting underground art abuses the toys and electronics we know and love.

We are also looking to hold a Wii tournament in the courtyard, weather allowing.

Nanoloops: the famous nintendo game boy music writing software will be fully in place. Anyone that writes music in this format then please contact us. We are holding a competition to find the best nanoloops artist in birmingham. Bring it on!!

Music on the eve will be from Subcitizen and Chromatouch, so expect some classic pure electro, bboy style, computer game anthems, arcade classics, 8bit pop and electronica lo fi scribblings. All very good fun!! 🙂

free entry, this will take place in the back bar of the Hare and Hounds on Tuesday 1st August and every first Tuesday of the month thereafter.

We hope you can make it along as there are a host of other guests and exhibitors bringing items and distractions from the world of computer games, 8bit music and similar curios coming soon to this night."
Radio silence resumed.