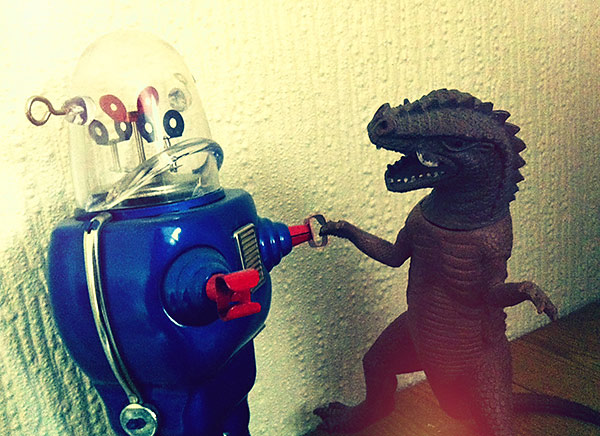 October 2011 has proven to be an unusually busy month for Robot vs Dinosaur, with more going on than we normally do in a year these days.
First off comes our latest stint at 8Bit Lounge. We'll be providing the soundtrack to your retro gaming pleasure alongside regulars Chromatouch and 8Bit Pete at the Hare & Hounds, Kings Heath, later this very evening. Games on offer include networked Wipeout and Quake as well as a host of other classic titles on formats including Amiga, SNES, MAME (arcade game emulation) and much more. Doors open at 8ish; entry is absolutely free; your enjoyment is guaranteed whether you're a gamer or not. Find Facebook event details here.
Moving on, later this month sees our first ever set outside of Birmingham: we'll be jetting off to faraway, mysterious Stourbridge to do a set as part of Carnage Club at The Temple of Boom on Saturday October 15th. The £3 entry also includes live sets from History of the Hawk, Papayèr, Crushing Blows, Vicious Bastard, Crash Night and Mothertrucker so you'll be getting plenty of bang for your buck. No bar, so bring your own beer- but since the venue is next door to a Tesco Express, that shouldn't be too much trouble. Full details right here on Facebook.
Finally, towards the end of the month we'll be dropping some hard techno bangers at… Stitches & Ho's, the Hare & Hounds' monthly knitting/needlecraft event. Entry is free, whilst their website states "Everyone is welcome – you don't even have to be good!". That's us covered then. Tuesday October 25th.