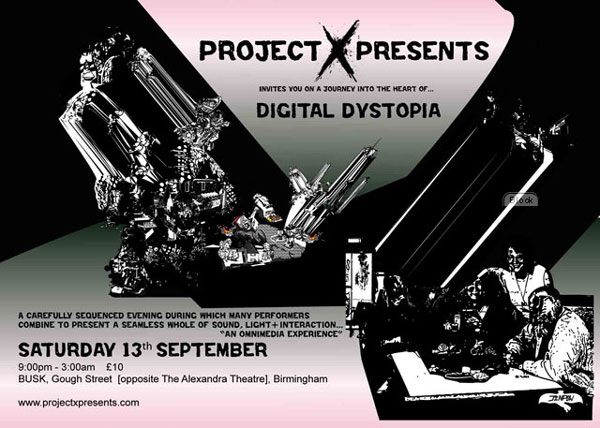 Robot vs Dinosaur will be DJing as part of Brum-based creative media network Project X Presents' next event, entitled "Digital Dystopia". Taking place on Saturday 13th September at newly-unveiled Birmingham club BUSK, the performance will further develop and explore the group's remarkable "Omnimedia Experience" format, presenting a seamless flow of art, music and visuals via three stages.
As well as our good selves (well, one half to be specific- I've got a wedding to get to), the event also features a performance from former RvD highlight Arc Vel alongside a diverse range of artists and DJs of all genres including Marc Reck, Mixmaster Morris, Steve Loopz, Rich Batsford, Shana Tova, 360 and many more. Meanwhile, those of a slightly more experimental bent can expect to have their appetites sated by the many art installations, spoken word pieces and VJ performances on offer. Believe me when I say that the above description merely scratches the surface of what this event has to offer: the promoters ask you to "leave your expectations at the door" and, for once, I would pay heed to that advice.
Entry to the event costs £10, and doors open at 8:00pm with the night running 'til 3. Meanwhile, BUSK can be found on Gough Street, opposite Island Bar and the Alexandra theatre. For more info, please check out the Project X Presents website.