Given that it would seem we've got events coming out of our ears for Autumn, here's a round-up of what we're up to over the next month or so… Don't forget, full details of all of our upcoming escapades can be found on our events page.
First up: we're very pleased to confirm that the ugly rumours, baseless conjecture and wild speculation currently sweeping the internets with regard to a Robot vs Dinosaur DJ residency at brand-spanking new Brum club BUSK is all true- we will be DJing in their third room on a regular basis as part of their BOOST night from next Wednesday (the 8th), when the club finally opens for business following a few dry-runs including Project X Presents' recent Digital Dystopia event.
Entry to the night, which also serves as the aftershow party for the Johnny Foreigner/Sunset Cinema Club/Calories gig at the Yardbird, is absolutely free with the night running from 10:30 'til 3am. Expect drinks offers and truckloads of great tunes, not just from ourselves but also from DJs Lex and Adam Eunson who respectively will be playing indie/electro/classic pop and alt-rock in the club's other two rooms. Find more information on the event's Facebook invite, and if you're wondering where BUSK actually is: it's on Gough St directly opposite our secret volcanic base, Island Bar- click here for a map.
As far as the future's concerned, it's currently undecided as to whether we'll be DJing there on a weekly or bi-weekly basis but you'll know as soon as we do. The best way to keep tabs on what we're up to is to keep an eye on our Twitter feed as things tend to be announced there first- either follow us if you're on Twitter already, subscribe to the page's RSS feed or just bookmark it if this whole social internet lark frightens the bejeezus out of you for some incomprehensible reason.
Right, on to the next RvD night proper: October's event sees us hosting a showcase for London-based electronic indie imprint Uncharted Audio, featuring live performances from label standards Line and Cyan341 plus a DJ set from their big boss Kone-R. Headliner Line, whom indie-heads may recognise as a former member of Matador Records folk-rockers Seachange, makes music which is best described as occupying the centre point on a Venn diagram describing the logical relationship between Drexciya and Joy Division. His fizzing, minimal backing and taut vocal delivery combine to deliver results which are both compellingly danceable and yet slightly unsettling.
Cyan341 on the other hand plays from an entirely different page, weaving together Berlin minimalism with the deeper, funkier techno of Detroit, whilst Kone-R promises to "mix together techno, breakbeat and lots of low frequency oscillations all in the spirit of rave". We'll be holding him to that! And of course, our good selves will be on call to DJ whatever we've nicked off the internet during the week prior.
As ever, entry is £3 or just £1 if dressed as a robot or dinosaur, with the event itself taking place at Island on Friday October 17th. Free pin badge on entry, huge cocktail selection of cocktails available! If you've got any music requests then leave a comment or drop us a line at info [at] robotvsdinosaur.co.uk, not that anyone ever bloody bothers…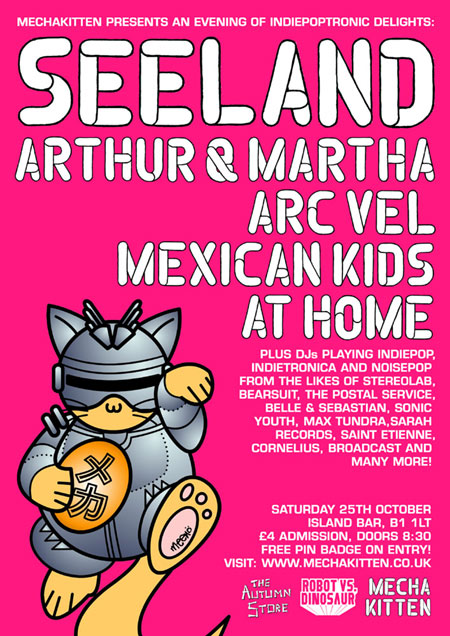 Anyway, moving on: our good selves at RvD Towers are high on life and drunk on power, having finally managed to get a joint event together with top indiepop promotions outfit The Autumn Store. The event in question, entitled Mechakitten, is somewhat of an arranged marriage between the otherwise disparate genres of indiepop and electronica… indiepoptronica, if you will?
Taking place at Island on Saturday October 25th, the night sees us mining a rich seam of musical goodness, taking in a rare headline set from former Broadcast/Plone members Seeland plus motorik pop madness from the London-based Arthur & Martha, instrumental electronic epics from former RvD performer Arc Vel as well as an opening set of indiepoptastic boy-girl-vocaled funs from Derby's Mexican Kids At Home.
We'll have DJs on hand too, playing everything from Belle & Sebastian to Battles, whilst the £4 admission fee includes a free pin badge (no money off for dinosaurs or robots this time 'round I'm afraid!). Doors open at 8:30 with the night running 'til everyone goes home! More info will be available at www.mechakitten.co.uk very soon, but in the meantime check out our Facebook invite for full details.
Anyway, no doubt your mind is reeling after that 100%-proof RvD event-related action spectacular! More info on all of the above the second it spurts from the infopipe. See you anon…