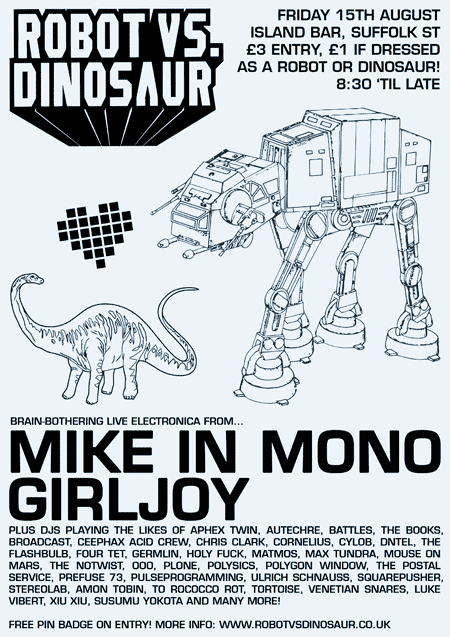 Robot Vs Dinosaur will be returning to Island Bar on Friday August 15th, with live services resuming following July's free entry DJ-only event.
This time 'round we have a headline set from ex-Plone and current ZX Spectrum Orchestra/Modified Toy Orchestra mainstay Mike In Mono, a man who's passion for bubbling analogue synth-pop and gorgeous vocodered vocals is matched only by his unswerving penchant for binary and hexadecimal numbers.
In sharp contrast, Milton Keynes-based Girljoy's cute yet nerve-shredding chipcore assault will be coming at you like a goomba on fire, taking us back to the good old days when high-scores meant everything and (more often than not) you had to blow into the cartridge to get it to work.
And as per usual we'll also have DJs playing the likes of aphex twin, autechre, battles, the books, broadcast, ceephax acid crew, chris clark, cornelius, cylob, dntel, the flashbulb, four tet, germlin, holy fuck, matmos, max tundra, mouse on mars, the notwist, OOO, plone, polysics, polygon window, the postal service, prefuse 73, pulseprogramming, ulrich schnauss, squarepusher, stereolab, amon tobin, to rococco rot, tortoise, venetian snares, luke vibert, xiu xiu, susumu yokota and whatever else we can find knocking about in the dark corners of our hard discs.
Entry is £3, or just £1 if dressed as a robot or dinosaur, with a free badge on entry! Doors open at 8:30, with the night going on 'til last man standing! Massive selection of cocktails available! Got any requests? Drop us a line!